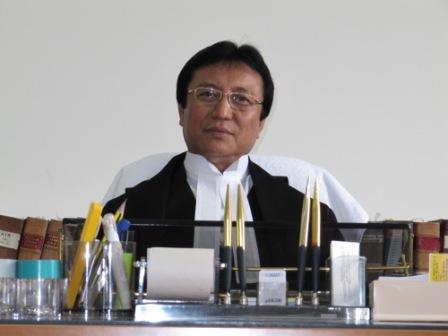 | | |
| --- | --- |
| Name | Hon'ble Mr. Justice Sonam Phintso Wangdi |
| Date of Birth | 25/10/1953 |
| Initial Joining | 23/06/2009 |
| Joining at Sikkim | 23/06/2009 |
| Served at Sikkim Upto | 24/10/2015 |
| Duration | 6 years 4 months 1 days |
Hon'ble Mr. Justice Mr. Sonam Phintso Wangdi was born on 25th October, 1953 in the village of Temi, South Sikkim. He graduated from St. Edmund's College, Shillong and did his LLB from the University of Calcutta. He joined the legal profession as an apprentice in December, 1980 in the chamber of Late Justice Anup Deb.
Hon'ble Mr. Justice Mr. Sonam Phintso Wangdi joined the State Government service as a Deputy District Magistrate-cum-District Collector for a brief period and after resigning from that post he returned to the legal profession. He was enrolled as an Advocate on 5th July, 1982 and designated as a Senior Advocate by the Calcutta High Court in January, 2000. He is the first lawyer from the State to be designated as Senior Advocate under Section 16(1) of the Advocates' Act 1961. He was appointed as Junior Central Government Counsel in 1983, was Additional Central Government Standing Counsel in 1985 and then as Central Government Standing Counsel in 1987, which has now been re-designated as Assistant Solicitor General of India.
Hon'ble Mr. Justice Mr. Sonam Phintso Wangdi was also appointed as Special Public Prosecutor in 1995 for conducting cases under the Prevention of Corruption Act, 1988 and also as Public Prosecutor for the High Court in the same year before he was appointed as the Additional Advocate General of the State of Sikkim under Article 165 of the Constitution of India with effect from 16.08.1997 to 16.11.1998 and thereafter as the Advocate General with effect from 17.11.1998. He is the first local Sikkimese lawyer to hold these posts.
As Advocate General of the State, he was also an ex-officio member of the Bar Council of Assam, Nagaland, Meghalaya, Manipur, Mizoram, Tripura, Arunachal and Sikkim since May, 2005 when for the first time the Advocates' Act 1961 was enforced in the State. He held the post of Working President of the Sikkim High Court Advocates Bar Association for the period 1989-1995, 1996- 1998, its Advisor and later unanimously elected as the President of the Bar Association of Sikkim.
During his professional career Justice Wangdi had been retained by various public sector undertakings, namely, State Bank of India, UCO Bank, Gangtok Municipal Corporation, Sikkim Development & Industries Corporation, etc. He also advised the High Court of Sikkim on sensitive legal issues and appeared and conducted cases on its behalf both in the High Court as well as the Supreme Court. He had also appeared and conducted cases in various other High Courts, including the Calcutta High Court, Delhi High Court, Jharkand High Court and the Supreme Court. Has put in more than 25 years of practice in the legal profession and is the first member from the Sikkim Bar Association who is a local Sikkimese having been elevated as Judge of the High Court of Sikkim on 23rd June, 2009.
His Lordship holds the following assignments:
Executive Chairman, Sikkim State Legal Services Authority since March 9, 2010.
 Chairman, High Court Legal Services Committee since May 22, 2010.
 President, Sikkim State Consumer Disputes Redressal Commission since June 8, 2010.
 Member of the Executive Committee of Central Authority of the National Legal Services Authority, New Delhi w.e.f April 11, 2013. Retired from service on 24/10/2015.